Whew! Our new CD,
'Music For Supervillains'
, is FINALLY available online at CDBaby. Featuring demented tracks such as '
Zombie Apocalypse Barbecue
', '
Mallet of Metal
', and '
What a Friend We Have In Cthulhu
', and cameos by Luke Ski, Carrie Dahlby and the Subgenius's own Rev. Ivan Stang, this album was
6 years in the making and worth every second!
CLICK HERE
to check it out!!!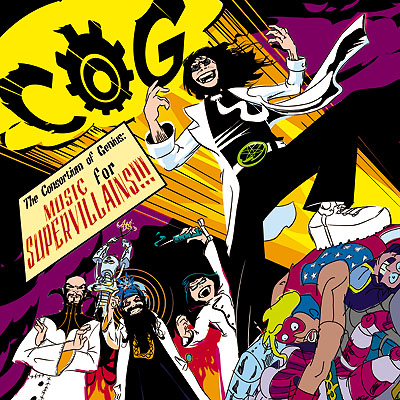 "The music is a lot of fun. The songs jump between genres, featuring power pop, heavy metal, 80′s pop, surf rock, and more, including a really lovely torch song by Dr. Hyde (as in, "I want to set you on fire with a torch"). It's all extremely well executed, and catchy as hell (the one-two punch of "Science Fight" and "Lab Girl" is pretty irresistible). " - David Lartigue, daveexmachina.com
"C.O.G. has a warped and wonderful sense of humor, but, musically, the band is no joke -- the 14 tracks that actually are songs run the gamut of pitch-perfect genre imitations, including the Rush-like opener "I Think Therefore I Rock," the pop-punky "Evil Is Fun," the smooth swing number "Lab Coat" and the '50s-style rocker "Science Fight." - Alison Fensterstock, The Times Picayune
"Overall this record is fun and highly entertaining." - Brian Serpas, Where Y'at Magazine
(New Orleans friends - get the CD from us Saturday Nov. 6th at the Blue Nile Club and get a FREE COMIC BOOK!!!)